Who can apply for a loan
Payday loans
Before you accept the loan
Archive for the "Mizuno Golf Clubs" Category
March 28, 2011, 2:02 pm
admin
Designed for forgiveness, distance, and feel, the brand new Mizuno JPX-800 PRO has the highest COR ever developed in a legendary Mizuno one piece Grain Flow Forged iron. A sizeable cavity is created using a CNC cavity milling process which thins the face to raise ball speeds for extreme distance, and improves a low, deep center of gravity for increased forgiveness on less than perfect shots.
These clubs provide an impeccably tuned sound at impact for the ultimate in feel. The JPX-800 PRO is also extremely pleasing to the eye, with a traditional look at address, minimal progressive off-set, thinner top line, and a modest, workable head size. In addition, the sole of the JPX-800 PRO has an aggressive Triple Cut design that allows for solid ball striking from all types of lies on the golf course.
Specs for each iron:
Club Loft Length Lie Bounce Offset
—- —- —— — —— ——
3I 20° 38.75″ 59.5° 1° 0.171
4I 23° 38.25″ 60.0° 2° 0.161
5I 26° 37.75″ 60.5° 2° 0.154
6I 29° 37.25″ 61.0° 2° 0.146
7I 33° 36.75″ 61.5° 3° 0.134
8I 37° 36.25″ 62.0° 4° 0.122
9I 41° 35.75″ 62.5° 5° 0.110
PW 45° 35.50″ 63.0° 6° 0.102
GW 50° 35.25″ 63.0° 7° 0.102
Below is a video review of the Mizuno JPX-800 Pro:
August 31, 2008, 6:06 am
Golf Clubs

The Mizuno MX-25 Irons GRPH is a follow up of Mizuno's top selling MX-23 so the manufacturers have made sure that the new version is a great improvement from the original. This Iron makes use of the Grain Flow Forged 1025E Pure Select mild carbon steel so expect Mizuno's solid but soft feel while improving your game technology.
This Iron has maximum forgiveness and a deep center of gravity thanks to the CNC milled pocket cavity design. It boasts of the High Energy Mass Impact or HEMI technology which makes possible the maximum transfer of energy from clubhead straight to the ball.
The Mizuno MX-25 Iron is finished in durable double nickel chrome with modified U-grooves providing you maximum playability whatever condition you might be playing in.
June 20, 2008, 9:09 pm
Golf Clubs
The new black carbon putter is a product of the collaborative effort of Mizuno and Bob Bettinardi. The Black carbon putter series recently won a Silver in the Golf Digest Hot List of 2008.
The Mizuno Black Carbon Putters boasts of a one-piece construction milled face and yet it has that softness and insert-like feel without the inserts. Like all the other Bettinardi putters you can find the Honeycomb face milling on this one but it is a bit different thanks to the additional face milling used in the club.
While these putters look like they have inserts, these putters have no inserts at all. Even the honeycomb miling which is a signature of Betinardi has undergone an intesne milling process which makes it possible for 30% of the face materials to have contact with the ball during play thus giving you a more responsive and softer roll.
The putter boasts of the FIT or Feel Impact Technology Face which makes use of a yellow border surrounding the face creating the illussion that the putters have an insert although once again they don't. It also has a black chrome finish that reduced glare when playing on a sunny day.
June 15, 2008, 8:08 pm
Golf Clubs
The Mizuno A Series Putter is milled from 6061T6 Aluminum Steel and has of a low and deep COG. These putters boasts of being the first putters produced from one piece milled designs as a product of an exlusive manufacturing partnership agreement between Mizuno and Robert J. Bettinardi, the popular putter designer.
These putters has the patented Honeycomb Face by Bettinardi which results to a more consistent striking of the ball in any course. It also boasts of the Winn AVS17 grip and the Custom Exotic True Temper double bend shaft.
The storm gray, anodized finish of the putter makes it look more elegant and a proud addition to your golf club bag.
June 5, 2008, 10:10 pm
Golf Clubs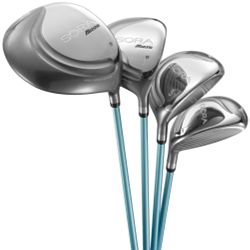 The Mizuno Lady Sora Full Set with Graphite Shaft boasts of a 460cc titanium. The stainless steel No,. 6-SW has an extreme pocket cavity design responsible for maximum forgiveness and high launch.
The oversized mallet putter has a face insert mad eof soft polymer that is easy to align and guaranteed to deliver true roll.
Mizuno came up with the set after intensive research and interview with women golfers. Thus, you can be sure that it fully responds to the ordinary necessities of women golfers.
The set comes with a nine-inch SORA cart bag which is easy to carry as it is lightweight and fully functional too. The cart has a trendy style and color and has seven pockets for your golfing needs.
May 23, 2008, 10:10 pm
Golf Clubs
Mizuno has bragging rights to the Mizuno Bettinardi Black Carbon Putter not only because it was developed by  Bob Bettinardi, who is famous the world over as a putter creator, but because it has a lot of features that golfers will be salivating about.
This steel putter boasts of being ultra consistent having been milled a hundred percent from carbon. It has a solid and soft feel due to the patented Feel Impact Technology Face or FIT Face.
The FIT Face technology provides an enhanced feel everytime you putt. The area where the technology is applied makes sure the surface area in contact with the ball and the face is reduced so that you get a solid feel when putting.
The Mizuno Black Carbon Putter has a black chrome finish that is not only elegant but also lessens glare when you are on the greens. It also has temper steel shafts and Winn AVS Honeycomb Sun grips.
Bettinardi designed the putter with two thigns in mind and that is to give the golfer that confidence to putt and to get an enhanced feel for every stroke he makes.
May 22, 2008, 10:10 pm
Golf Clubs
The Mizuno CLK-FLI-HI Hybrid is a wood type hybrid that makes use of the latest design tehnology and modern materials to come up with a golf club that can afford maximum forgiveness and a high launch resulting to an overall unsurpassed performance.
This golf club has a titanium crown that is ultra thin and brazed to a stainless body. This allows the club to come up with a low and deep center of gravity as well as maximum forgiveness.
Weight is also distributed towards the club's perimeter that results ot an extremely easy launch. Mizuno makes use of teh CORTECH technology which is responsible for distance control and that is consistent and face deflection that is uniform. The Speed Plate sole design increases toe relief and enhances playability of the club.