Posts Tagged "Mizuno gold clubs"
June 20, 2008, 9:09 pm
Golf Clubs
The new black carbon putter is a product of the collaborative effort of Mizuno and Bob Bettinardi. The Black carbon putter series recently won a Silver in the Golf Digest Hot List of 2008.
The Mizuno Black Carbon Putters boasts of a one-piece construction milled face and yet it has that softness and insert-like feel without the inserts. Like all the other Bettinardi putters you can find the Honeycomb face milling on this one but it is a bit different thanks to the additional face milling used in the club.
While these putters look like they have inserts, these putters have no inserts at all. Even the honeycomb miling which is a signature of Betinardi has undergone an intesne milling process which makes it possible for 30% of the face materials to have contact with the ball during play thus giving you a more responsive and softer roll.
The putter boasts of the FIT or Feel Impact Technology Face which makes use of a yellow border surrounding the face creating the illussion that the putters have an insert although once again they don't. It also has a black chrome finish that reduced glare when playing on a sunny day.
June 5, 2008, 10:10 pm
Golf Clubs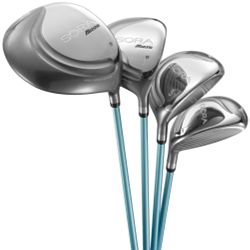 The Mizuno Lady Sora Full Set with Graphite Shaft boasts of a 460cc titanium. The stainless steel No,. 6-SW has an extreme pocket cavity design responsible for maximum forgiveness and high launch.
The oversized mallet putter has a face insert mad eof soft polymer that is easy to align and guaranteed to deliver true roll.
Mizuno came up with the set after intensive research and interview with women golfers. Thus, you can be sure that it fully responds to the ordinary necessities of women golfers.
The set comes with a nine-inch SORA cart bag which is easy to carry as it is lightweight and fully functional too. The cart has a trendy style and color and has seven pockets for your golfing needs.